Explosion Detection and Suppression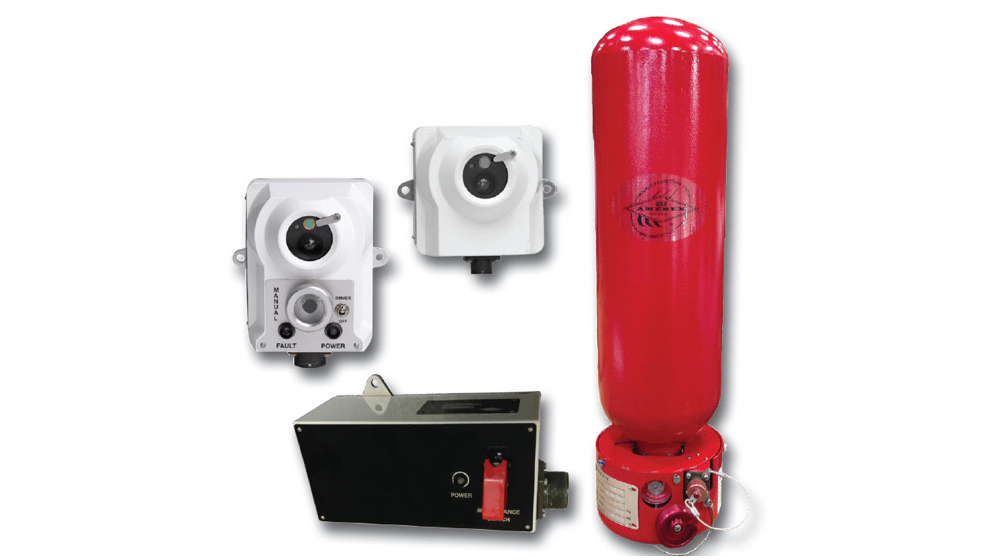 Field-proven UV/IR detection provides high-speed optical flame detection while maintaining immunity to sources of UV and IR radiation to avoid unwanted system discharges. To reduce weight and the number of components, one of the detectors also contains a manual release switch and system control logic functions. Additional optical flame detectors can be added to cover larger and/or shaded areas of the hazard.
Power backup modules provide up to 15 minutes of power to assure automatic system operation in the event of a catastrophic loss of power to the system.
A unique remote manual activation switch is available with its own power back-up providing the capability to manually operate the system up to one hour after loss of primary power.
The agent is stored in a pressurized cylinder, typically discharging through a discharge tube to either a nozzle with either a 360 degree or 180 degree discharge pattern. This nozzle option allows flexible location of the cylinder while providing the best nozzle location for fast agent delivery.
Typical response times for these systems from the start of the fire until agent starts discharging through the nozzle is 30 milliseconds or 3/100 of a second. The total time from the start of the fire to extinguishment can be as short as 90 milliseconds (9/100 second) and is typically well under 200 milliseconds (1/5 second).
Moving Industries Forward by Redefining Fire Suppression