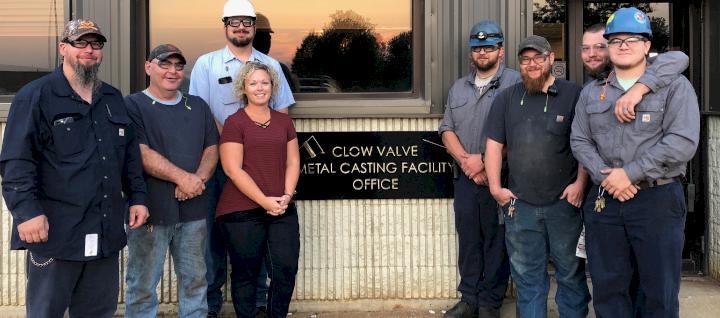 The McWane Ergo Cup competition is held annually. The mission, should you choose to accept it, is to reduce and prevent work place injuries … it is not an impossible mission.
The commitment to safety shown by our team members, on behalf of each other and McWane, is inspiring.

Barb Wisniewski
Teams from McWane facilities around the country present ergonomic-related projects they have implemented within the last 24 months to a panel of health and safety experts. Each project is aimed at reducing injuries, while improving workplace efficiency and transforming processes to best fit the needs of our team members.
"The commitment to safety shown by our team members, on behalf of each other and McWane, is inspiring," said Barb Wisniewski, Vice President Health and Safety. "This is a perfect example of the McWane Way in action."
Ergonomics is the science of fitting workplace conditions and job demands to the capabilities of the working population. This emphasizes the implementation of industry and task-specific guidelines for reducing and preventing workplace musculoskeletal disorders and other injuries.
Each year, every project is judged on measureable outcomes such as return on investment, quantified reduction of injury and reduced workers' compensation costs, among other factors. The successes from these projects are then implemented at other McWane facilities with similar operations to further reduce injury risks company wide.
Good luck to our team members!
2019 Ergo Cup Winners
Most Outstanding Project, First Place - Clow Valve Company, Oskaloosa, Iowa  - Brass Pattern Rotisserie
Clow Valve designed an ergonomically friendly device to eliminate the manual lifting and turning of brass patterns by implementing a mechanical rotisserie device.
First Place Runner Up - Tyler Coupling, Marshfield, Missouri - Eyeletter Designer
Tyler Coupling automated the eyeleting process which reduced the competitive movements needed by the operator per cycle and reduced the strain on the operator's hands, wrists, arms and shoulders. It also decreased the cycle time needed to produce the product and increase throughput of finished product.
Best Risk Reduction - Bibby Ste. Croix, Sainte Croix, Quebec, Canada - Kloster Motorization Conveyor
Bibby Ste. Croix motorized every section of the Kloster conveyor and added a safety detection system to prevent boards weighting 1,000 lbs. from falling.
Most Innovative Project - Kennedy Valve Company, Elmira, New York - Furnace Innoculates
Kennedy Valve came up with a bulk system to dispense Inoculates, carbon and 75% silica onto the scale which eliminated the lifting, bending, twisting and shoveling by team members.
Past Ergo Cup Winners:
2018
First Place: Clow Valve Machine Shop, Oskaloosa, Iowa  - Flange Rotator
1st Runner Up: Kennedy Valve Company, Elmira, New York - Ladle Guard
Best Risk Reduction (representing the highest overall risk reduction):  M&H Valve, Anniston, Alabama - Wedge Coat Hook Cleaning 
Best Innovation (representing the most innovative project):  Manchester Tank, Elkhart, Indiana - Rotary Brush Cleaning
2017

First Place: Bibby Ste-Croix, Sainte Croix, Quebec, Canada  - Ladle Demolding Station
1st Runner Up: Tyler Pipe & Coupling, Marshfield, Missouri - Injection Mold Extruder Tip Puller
Best Risk Reduction (representing the highest overall risk reduction): Anaco, Corona, California - "No More" Manual Loading of Feed Bins on the Threader Machines
Best Innovation (representing the most innovative project):  McWane Ductile Ohio, Coshocton, Ohio - Sure Stop Gasket Removal
2016

First Place: Tyler Pipe & Coupling, Marshfield, Missouri - Gasket Conveyor Project
1st Runner Up: Clow Valve Company, Oskaloosa, Iowa - Punch Press Stem Conversion
Best Risk Reduction (representing the highest overall risk reduction):  Amerex, Trussville, Alabama - Valve Install
Best Innovation (representing the most innovative project):  Tyler Union Foundry, Anniston, Alabama - Tuff Grip Pattern Core Modifications
2015

First Place - Clow Valve Company, Oskaloosa, Iowa & Corona, California
1st Runner Up - Manchester Tank & Equipment Company, Quincy Illinois
Best Risk Reduction Award - Manchester Tank & Equipment Company, Elkhart, Indiana
Best Innovation Award - Amerex, Trussville, Alabama

2014
First Place - Manchester Tank & Equipment Company, Quincy, Illinois
1st Runner Up -  Manchester Tank & Equipment Company, Elkhart, Indiana
Best Risk Reduction Award - Bibby-Ste-Croix
Best Innovation Award - Manchester Tank & Equipment Company, Bedford, Indiana
2013
First Place - Manchester Tank and Equipment, Elkhart, Indiana
Second Place - Manchester Tank and Equipment, Qunicy, Illinois
Third Place - Tyler Coupling
2012
First place — Pacific States Cast Iron Pipe Company, Provo, Utah
Second place — Clow Valve Company, Oskaloosa, Iowa
Third place — Amerex, Trussville, Alabama
2011
First place — Union Foundry  Company, Anniston, Alabama
Second place — Clow Water Systems, Coshocton, Ohio
Third place — Clow Valve Company, Oskaloosa, Iowa
2010
First place — Amerex, Trussville, Alabama
Second place — Clow Water Systems, Coshocton, Ohio
Third place — M&H Valve Company, Anniston, Alabama
Moving Industries Forward by Redefining Fire Suppression