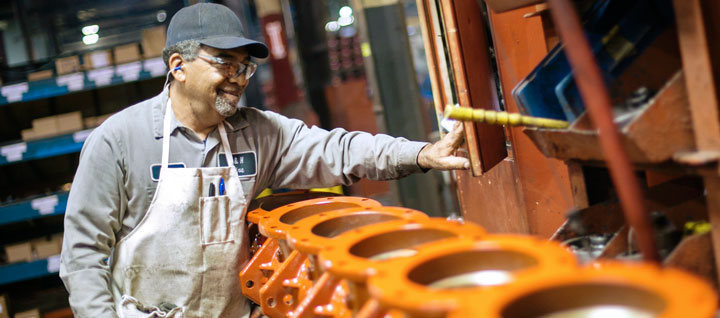 At McWane, we not only focus on today's community, our goal is to protect the environment for today and tomorrow.
Safeguarding the health and safety of each and every one of our team members and protecting the environment in the communities where we operate is job one at McWane. This vision and commitment begins right at the top of the organization with Phillip McWane, Chairman of the Board, and Ruffner Page, President & CEO. All levels of management and all team members company-wide understand and support it.
This vision is embodied in McWane's Environmental, Health and Safety (EHS) policy which comprises three principles:
Compliance
We will manage our business activities to meet all governmental laws and regulations, as well as internally-established environmental, health and safety requirements. Our goal is 100 percent compliance, 100 percent of the time.
Protection
We will conduct our activities in a responsible manner to protect our employees, the public and the environment by focusing on injury and illness prevention, pollution prevention and minimizing impacts and risks to the environment from our operations.
Improvement
We will continually improve our environmental, health and safety performance with primary focus on setting and achieving goals and objectives.
With these principles in mind, our EHS program includes:
A centrally-coordinated EHS and HR management structure with experienced and qualified professionals at all levels.
A state-of-the-art, web-based EHS management system.
A detailed ethics and compliance policy that instills a commitment to ethical behavior and legal compliance across the company.
An extensive EHS and management skills training and educational program, known as McWane University.
Hundreds of millions of dollars in capital and operational expenditures related to EHS since 1999.
Numerous oversight mechanisms, including internal and external (third-party) audits.
A financial incentive program for managers based upon EHS-HR performance and the inclusion of EHS-HR performance in annual evaluations.
An appropriate range of disciplinary actions for non-compliance.
A well-publicized, confidential, 24-hour "access line" for reporting suspected violations of law, regulations or company policy and other concerns.
Moving Industries Forward by Redefining Fire Suppression