Manchester Tank Campbellsville kicks off Purpose Week celebration
Manchester Tank Campbellsville kicks off Purpose Week celebration
May 16, 2022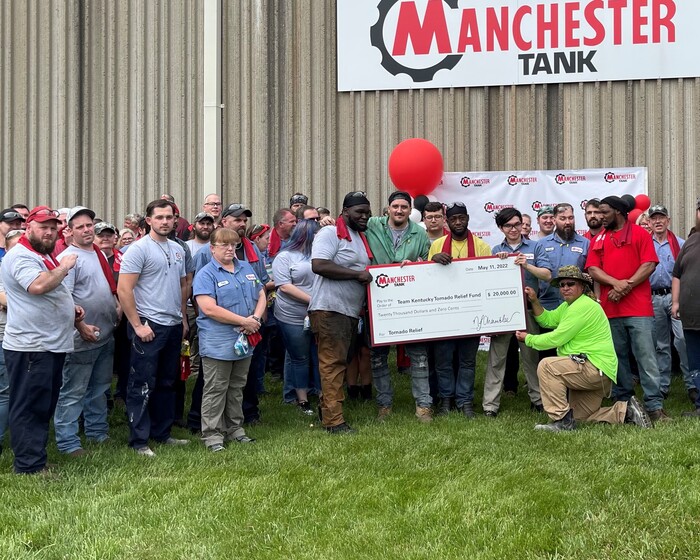 Photo: Pictured L-R back row: Dr. Joseph Hopkins (Campbellsville University President), Sarge Pollock (KY State Representative), Max Wise (KY State Senator, 16th District), Ron McMahan (Executive Director/CEO Team Taylor County), and Greg Gribbins (Executive Director Campbellsville Chamber of Commerce); L-R front row: Laura Croft (Manchester Sales Manager), Barry Smith (Taylor County Judge/Executive), Nancy Chamblee (Manchester President), Diane Ford-Benningfield (Mayor of Campbellsville), Ashli Watts (President and CEO of Kentucky Chamber) and John Cox (Director of Public Affairs at the KY State Chamber of Commerce)
The Manchester Tank team in Campbellsville, Kentucky kicked off their inaugural Purpose Week celebration by donating $20,000 to the Western Kentucky Tornado Relief Fund.  These funds will go directly to those impacted by the devastating tornadoes that hit Kentucky in December of 2021. During the ceremony, Manchester Tank Sales Manager Laura Croft shared her story and the impact the tornadoes had on her family with the loss of two family members.  

​​​​​​Several Kentucky representatives attended the event including Max Wise (KY State Senator, 16th District), Sarge Pollock (KY State Representative), Barry Smith (Taylor County Judge/Executive), Diane Ford-Benningfield (Mayor of Campbellsville), and Ashli Watts (President and CEO of Kentucky Chamber).   

Thanks to our generous team members and to Manchester for matching the funds raised for this important cause!