Danny Lewis retires after three decades of service
Danny Lewis retires after three decades of service
July 17, 2019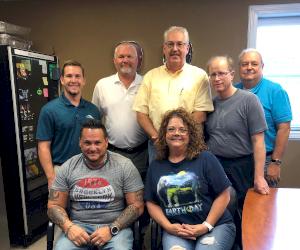 Pictured front to back L-R: Greg Reyes (Environmental Technician, Renea McGathy (Environmental Assistant), Dylan McKee (Safety Engineer), Tom Bell (new Environmental Manager), Danny Lewis, Chris McBee (Environmental Engineer) and Chriss Suddeth (Safety Ma
Danny Lewis retired on June 28th after three decades of service.  His career with McWane began with Empire Coke in Holt, Alabama in 1981. After 22 years he transferred to McWane Pipe in Birmingham, Alabama and later to M&H Valve in Anniston, Alabama. Danny had plans to retire from M&H Valve, but as fate would have it, those plans were put on hold when he agreed to work a while longer and assist Tyler Union as the Interim Environmental Manager. Danny's knowledge, experience and friendship helped them through a challenging time.

Danny and his wife, Wanda, live in Tuscaloosa, Alabama. They have a son, daughter and two wonderful grandsons. They look forward to spending lots of time with their family.

We wish Danny a long and happy retirement.