2018 Kent Arnold Significant H&S Contributor Award presented to Joe Medina
2018 Kent Arnold Significant H&S Contributor Award presented to Joe Medina
September 18, 2018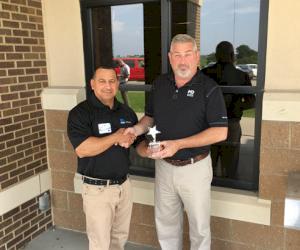 (Pictured presenting the award from L-R: Joe Medina and Group Safety Director Michael Parker)
We are pleased to announce that the 2018 Kent Arnold Significant H&S Contributor Award was awarded to McWane Ductile New Jersey team member Joe Medina at the 2018 VPP Forum.  This award was created and named after McWane Ductile Ohio team member Kent Arnold who retired in 2017.  In his 47 years of service, Kent always put employee health and safety first.

This annual award is awarded to one team member company-wide who exemplifies passion, dedication, and achievement of health and safety excellence. The award winner is also invited to attend the National VPP Conference as a guest of McWane Corporate Health & Safety.

Congratulations Joe and thank you for your commitment to maintaining a safe work environment.